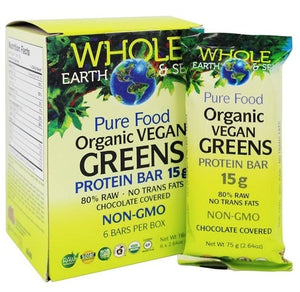 Natural Factors Whole Earth and Sea Organic Vegan Greens Protein Bar 15g
Natural Factors Whole Earth and Sea Organic Vegan Greens Protein Bar 15g
The Natural Factors Organic Vegan Greens Protein Bar is the next generation of on-the-go whole-food nutrition. The ingredients are 80% raw and 100% gluten-free, organic, non-GMO, and kosher.*
The easy-to-digest plant-based protein (from brown rice, buckwheat, peanut butter, and chia) conveniently boosts protein intake without needing to consume animal products, soy, dairy, or gluten. In addition to protein, the Greens Protein Bar is packed with green superfoods, including wheat and barley grass juice, spirulina, and broccoli sprouts. It also contains dates, blueberries, raspberries, and strawberries, and is an excellent source of fiber – providing 9 g of fiber, or 36% of the daily recommended intake (DRI) – and a good source of iron ( 15% of the DRI). A healthier alternative to bars loaded with artificial flavors and calories, the naturally sweetened formula helps keep you satisfied and energized between meals.*
Recommended Use
Much of the protein comes from plant-based organic brown rice. Research has shown that brown rice protein offers benefits virtually identical to the dairy-based whey protein popular with bodybuilders. The rice protein is balanced by a rich, creamy peanut butter that also contributes to the great flavour. And, of course, we couldn't skip chocolate. But this is not just any chocolate; it's antioxidant-rich, dark chocolate. What you won't find in our green protein bars is high fructose corn syrup (HFCS) or other unhealthy sugars. Our bar is sweetened with NuVous™ (containing inulin, stevia, orange flavour and lycii berry extract).
*Disclaimer*
These statements have not been evaluated by Health Canada or the FDA. This product is not intended to diagnose, treat, cure, or prevent any disease.
Caution(s)
Contains peanuts. May contain pieces of date pits, stems, nut shells or seeds.
Nutritional Facts
One 75 g bar contains:
15 g protein.

9 g fibre.

290 calories.

38 g carbohydrates.

23 g sugars.
Ingredients
Organic brown rice protein, organic dates, organic peanut butter, organic tapioca syrup, organic inulin, organic raisins, organic greens powder (organic wheat grass juice powder, organic barley grass juice powder, organic spirulina, organic blueberry, organic raspberry, organic broccoli sprouts, organic beet juice, organic carrot juice), organic chia seeds, organic buckwheat, organic strawberries, organic stevia extract, organic lycii berry extract, organic orange flavor.
---
We Also Recommend
---