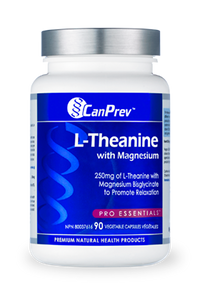 L-Theanine with Magnesium - 90 VCaps
Each vegetable capsule contains a 250mg daily dose of L-theanine
Promotes a restful, relaxed state without diminishing alertness
90 day supply
When you're looking for a supplement that helps you relax without making you feel drowsy, then CanPrev's L-Theanine with Magnesium just might be the answer.
L-theanine is an amino acid found in green and black tea and commonly used as a natural stress reliever. In addition, it can help to improve concentration and focus without making you feel sleepy. As a psychoactive substance, L-Theanine can easily cross the blood-brain barrier, directly working its magic on the central nervous system.
L-theanine is especially beneficial for anxiety sufferers because it increases dopamine and GABA (gamma-aminobutyric acid) receptors in the brain. GABA is a chemical receptor that reduces the activity of neurons that it binds to. In other words, it helps slow down the feelings of fear and stress when neurons become over excited.
CanPrev's L-Theanine provides an impressive 250 mg of pure L-theanine along with 20 mg of magnesium bisglycinate to promote a state of relaxation so that you can stay focused and productive.
A product that soothes an anxious mind and at the same time helps you stay focused and productive. Sounds like a win-win situation from CanPrev!
---
We Also Recommend
---