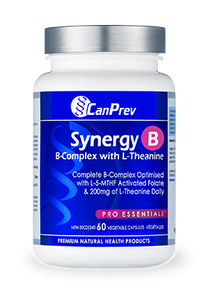 Synergy B - 60 VCaps
Complete B complex formula in preferred forms
With 200mg of L-theanine daily to help promote mental relaxation
Support for both the body and mind
Contains spirulina for added natural source of B vitamins
Uses L-5-MTHF, the most active natural form of folic acid
B vitamins are a group of eight individual vitamins that together are referred to as B-complex. While they work together to help convert our food into fuel thereby keeping up our energy, they all have specific jobs – supporting healthy skin and hair, working as antioxidants to help to prevent early aging and memory loss, boosting levels of HDL (good) cholesterol, forming red blood cells and maintaining the central nervous system. B vitamins are water soluble, meaning they are not stored in the body and need to be replaced every day.
CanPrev's Synergy B is an innovative vitamin B complex that delivers the full spectrum of B vitamins in their preferred forms, plus an impressive 200 mg of L-Theanine daily. L-Theanine is an amino acid found in green tea leaves that temporarily produces mental relaxation without any sedating effects. It's the perfect companion to a B-complex vitamin, enhancing its already stress reducing and mood enhancing properties. In addition, Synergy B contains all natural spirulina, a blue green algae that supplies a rich source of phytonutrients, carotene and additional B vitamins.
CanPrev's in-house team of naturopathic doctors have formulated a unique B-complex brand that contains the full spectrum of B vitamins in addition to complementary and enhancing support supplements that you won't find anywhere else. In essence, Synergy B offers an excellent combination of nutrients to support the body and relax the mind.
---
We Also Recommend
---