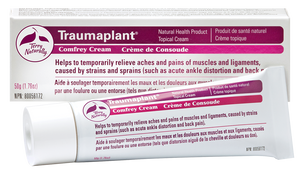 Traumaplant® Comfrey Cream - Vegan
Helps to Temporarily Relieve:




Aches and pains caused by strains & sprains*




Muscle pain such as back pain*




Speed healing of fresh abrasions*

Millions SOLD WORLDWIDE!

Comfrey has been a highly-regarded herb for thousands of years. The clinically studiedcomfrey (Symphytum x Uplandicum NYMAN) used in Traumaplant is rich in the goodness of the plant's key elements – rosmarinic acid, allantoin, and choline – from the flowers, stems, and leaves. Comfrey has been a favourite herb in Europe since ancient times and cultivated by monks as a healing plant since the Middle Ages.

Did you know?
Terry Naturally CANADA is the pioneer of introducing this specific species of comfrey to Canada. Health Canada added Symphytum x Uplandicum NYMAN as a new ingredient to their database during registration of the NPN.

Traumaplant Comfrey Cream:

Free of toxic pyrrolizidine alkaloids (PAs)

17 clinical studies
Grown without chemical pesticides or artificial fertilizers

*Helps to temporarily relieve aches and pains of muscles and ligaments, caused by strains and sprains (such as acute ankle distortion and back pain)

*Helps to temporarily relieve muscle pain such as back pain

*Helps soothe sore muscles

*Helps with minor wound healing

*Helps to speed the healing of fresh abrasions

Safe for adults and children ages 3 and up!

NPN 80056172

*To be sure this product is right for you always read and follow the label.

SUPPLEMENT FACTS

MEDICINAL INGREDIENTS:

INGREDIENT
AMOUNT/SERVING
Symphytum x Uplandicum (Blue Comfrey)
2-3:1 leaf, stem, and flower extract
20-30 mg dried equivalent

NON-MEDICINAL INGREDIENTS:

Purified Water, Glyceryl Stearate, PEG-20 Glyceryl Stearate, Isopropyl Myristate, Propylene Glycol, Octyldodecanol, Glycol Salicylate, Dimethicone, Sorbic Acid, Rosmarinus officinalis (Rosemary) Leaf Essential Oil, all-rac-alpha-Tocopheryl acetate, Citric Acid.

---

RISK INFORMATION:

Avoid contact with eyes and mucus membranes. If accidental ingestion occurs, call a Poison Control Center immediately. Do not apply with external heat. If you are pregnant or breastfeeding, consult a healthcare practitioner prior to use. Hypersensitivity may occur, in which case, discontinue use. For children (3-12 years) application should be supervised by an adult. Not intended for use on deep or puncture wounds, animal bites or serious burns. If symptoms persist and/or worsen after 7 days or re-occur within a few days, discontinue use and consult a health care practitioner. External use only. Keep out of reach of children.

SUGGESTED USE:

For wound healing: 1 application daily, for a period of 7 days. Cover the wound with a sterile dressing. For muscle pain (Adults & children 3 years & older): 3 applications daily, for up to 2 weeks. For muscle pain (Adults only): 4-5 applications daily, for up to 2 weeks.
---
We Also Recommend
---